Basic apartment with 2 rooms
1st floor - 50 mt² for 4 to 5 persons
Apartment with two double-bed rooms (possible to add a single bed in one of them), 2 bathrooms with WC, shower and bidet, kitchen- living room with double sofa bed, balcony.
The apartment has no elevator.
Dolomiti Pustertal Active Special
from 07.09.2019 to 13.10.2019
The offer for adventurous vacationers in late summer.
from 170,00 €
Go to offer
Services
bedlinen and bathtowels (no kitchen wash)
free entry in our panoramic sauna & panoramic terrace
bathrobe and towels for sauna
baby-cot, changing-table pad and child's chair
playroom and -ground
SAT-flat-screen TV, connection for SKY-decoder, SAT-radio, WiFi free, safe, hairdryer
fully furnished kitchen with tableware and cutlery, ceramic stove top, dishwasher (detergent included), fridge with refrigerator compartment, microwave, coffee machine, water boiler, sitting area and couch
oven on request, washing machine (on payment)
daily fresh bread and milk
on request also with breakfast: rich buffet in our new breakfast room € 12,00 for adults and € 7,00 for children or italian breakfast (croissant or bread with jam and coffee or tea) € 3,00 for person or our large breakfast basket served in the apartment € 8,00 for adults and € 6,00 for children
final cleaning is included, by a stay of 6 nights also an intermediate cleaning included (whitout kitchenette)
parking place, elevator
10 % discount at Restaurant Ciolà (neighbour)
indoor aquatic centre CRON4 at 18 km: 5 different pools with an overall area of water of 800m² + 75-metre-long tunnel chute + spacious sunbathing lawn + 2000 m² sauna area (www.cron4.it) - on payment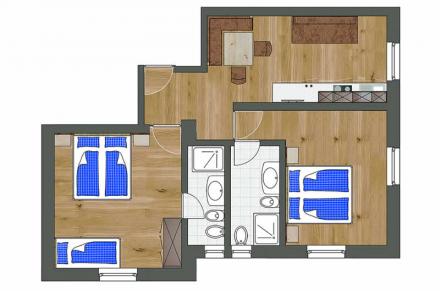 Summer prices
Period
Price
26.05.2019-29.06.2019
3 pers. 108,00
4 pers. 130,00
5 pers. 152,00
29.06.2019-13.07.2019
4 pers. 142,00
5 pers. 164,00
13.07.19-03.08.2019
4 pers. 160,00
5 pers. 182,00
03.08.2019-24.08.2019
4 pers. 200,00
5 pers. 222,00
24.08.2019-31.08.2019
See also our offers
4 pers. 170,00
5 pers. 192,00
31.08.2019-07.09.2019
4 pers. 138,00
5 pers. 160,00
07.09.2019-13.10.2019
3 pers. 108,00
4 pers. 130,00
5 pers. 152,00
Winter prices
Period
Price
30.11.2019 - 21.12.2019
See offer Dolomiti Super Premiere
30.11.2019-21.12.2019
4 pers. 190,00
5 pers. 220,00
21.12.2019-04.01.2020
5 pers. 250,00
04.01.2020-11.01.2020
5 pers. 225,00
11.01.2020-18.01.2020
4 pers. 190,00
5 pers. 220,00
18.01.2020-25.01.2020
4 pers. 190,00
5 pers. 220,00
25.01.2020-22.02.2020
4 pers. 220,00
5 pers. 250,00
22.02.2020-29.02.2020
5 pers. 250,00
29.02.2020-07.03.2020
4 pers. 220,00
5 pers. 250,00
07.03.2020-14.03.2020
4 pers. 190,00
5 pers. 220,00
14.03.2020-12.04.2020
4 pers. 190,00
5 pers. 220,00
16.03.2020 – 12.04.2020
See offers Dolomiti Super Sun